The Columbus Moms Network 2023 Holiday Gift Guide is here, presented by StretchLab Powell.
It's officially the holiday season and we couldn't be more excited! This year, we want to make shopping as easy & creative as possible, while giving you plenty of ways to support local businesses. You're sure to find something for everyone on your list!
And be on the lookout on Instagram for our Holiday Giveaways, coming in early December.
Happy Gifting!
StretchLab Powell is thrilled to be the presenting sponsor for the Columbus Mom's Network 2023 Holiday Gift Guide! But what exactly is StretchLab?
We're more than just a wellness studio: we're your ultimate wellness destination. We offer one-on-one assisted stretching sessions tailored just for you to focus on areas that may be painful or tight! Our expert Flexologists are dedicated to helping you move, feel, and live better, no matter where you are on your wellness journey. It's not just a stretch; it's a holistic approach to well-being that targets your unique goals and needs! Our goal is to help you be a more flexible, happier you!
So why are we one of the best gift ideas for the holiday season? You can kickstart your own or your loved ones' wellness journey with us at a special rate that's only available for a limited time. You can also give us a try with one of our free demo stretches! It's truly a gift that keeps on giving, as you'll experience increased flexibility, reduced tension, and a renewed sense of well-being. But the holiday surprises don't stop there! We've got fantastic deals on stretching sessions for Black Friday and Cyber Monday, ensuring you can give the gift of wellness to those you care about. This year, make your holiday shopping truly meaningful with StretchLab!
WakeUp MakeUp Cosmetic Tattoo

WakeUp MakeUp Cosmetic Tattoo offers services in microblading, powder brows, lip blush and lash line enhancement that saves time and frustration every single day. Sparse brows, pale lips and tired eyes can get the attention they deserve with a polished and natural look clients wake up with! Jaclyn's goal is to elevate the already beautiful faces of each of her clients. Be the Best version of You with permanent cosmetics that last for years to come!
The 2023 Holiday Specials are the best yet and will begin running this week for Black Friday and into the Christmas season. Gift bundles adding extra value can be booked at limited time special pricing and the much-anticipated "Gift Card Glow Up" offer is BACK with a whopping 25% off gift cards over $100 purchased at 
www.wakeupmakeupohio.com
 on Black Friday Weekend ONLY…these prices are only offered once a year and the gift cards never expire, so make sure to put them on your list and get your permanent makeup special pricing now to use later when it's most convenient for you!
All specials will be released on the WakeUp MakeUp
Instagram page
and website, but Columbus Moms followers can get the code for the gift card discount TODAY by following WakeUp MakeUp on Instagram and sharing their page to a friend….then simply DM Jaclyn for the code to shop early and reserve your appointment time.
Be the Best version of You with permanent makeup that lasts for years to come!
Introducing BetaCarrotTeen Nutrition by 
Sami
 Hupp NDTR!
Are you a busy mom looking to take charge of your health and well-being through better nutrition? Look no further! 
Sami
 Hupp, a Dietetic Technician Registered with over 6 years of experience in the field, is here to help you on your journey.
Services provided by BetaCarrotTeen Nutrition:
 1-on-1 Nutrition Coaching: Tailored guidance and support to help you achieve your health and wellness goals.
 Meal Plans: Personalized meal plans designed to suit your nutritional needs and preferences, making healthy eating a breeze.
 Ebooks, Recipe Packs, and Nutrition Blog: Access a wealth of resources to make informed choices about your nutrition, with easy-to-follow recipes, informative blog posts, and educational ebooks.
Ready to take the first step towards a healthier you? Book a FREE discovery call with 
Sami
to determine the right path for your unique needs. Start your journey to a healthier, happier lifestyle with BetaCarrotTeen Nutrition today!
Hi, Mel and Ali here, 2 local Columbus mompreneurs who came together to create Need Want Wear Share, a quarterly subscription box, featuring something you need, something you want, something to wear and something to share. Made for moms, by moms to help you treat yourself and find that ever elusive balance in motherhood. As moms we felt like we didn't fit into one box.. Sometimes you feel like the crunchy mom, the crafty mom, the techie mom, the urban mom, the sporty mom etc… Need Want Wear Share is for "the every mom".  This box fulfills all of the different sides of you as a person, a woman and a mama.
Need Want Wear Share makes the perfect holiday gift for any woman in your life. With many options to choose from you're bound to find something that suits your needs. Treat someone special to the gift that keeps on giving and purchase an annual subscription, or opt for our "One for Now " box and gift them this current holiday bundle of joy. Free local delivery is available and we ship anywhere in the continental United States.
Are you looking for the perfect gift for the sports fan in your life?
Let us introduce you to Future Fans Football. We use stories, games, and rhymes to teach kids about the sport in fun and unexpected ways. Founded by two Columbus dads, Future Fans was created to share the love and community of sports with young kids.
📖 How does it work? Start by reading a story about football week at Camp Rallyhoo. As you read, you unbox surprises that bring the story to life and allow your kids to learn alongside the characters of the book. Play games, learn rhymes, and enjoy time together as a family all while learning the basics of football.
🎄This holiday season, gift Future Fans Football to the football fans in your life. Designed for kids ages 4-10 with family time and educational play in mind.
🎁 Shop online at FutureFans.com or Amazon. The first 10 of our followers who use the code CMN15 get 15% off your purchase. Order by Dec. 15th to receive your box by Christmas!
As the holiday season approaches, we are thrilled to offer our exclusive 'Give of Experience' 2023 Holiday Packages specially curated for our valued Goldfish Swim School families. This FIN-tastic opportunity will provide you with the 'Gift of Swimming' along with a chance to support local businesses by enjoying incredible discounts on services and products you love. Our packages will include a $200 Goldfish Swim School gift card, exclusive Goldfish swag, and the selection of family-friendly giveaways from our local partners listed below! Total value of our holiday package is $620, purchase TODAY for $225!
1 FREE Kid's Meal at Texas Roadhouse
1 FREE 'Bundtlet' from Nothing Bundt Cakes
1 FREE Class at Gymboree Play and Music
$15 off First Class for New Dancer at NorthPointe Dance Academy
1 FREE Class at Barre3 Powell
1 FREE Haircut at Cookie Cutters
1 FREE Month Subscription to Meal Prep Menus
1 FREE Hour Office Rental at CoHatch
$4 Off Coupon at Healthy Blends
$150 Giftcard to Aaron Taylor Photography
1 FREE T-shirt from The Awesome Company
$50 Off Full or $25 Off 30 Min Sessions for Stephanie Barnes Photography
2 FREE traditional Buckeyes with purchase from The Buckeye Lady
1 FREE Cookie from Crumbl Cookie
$20 Off a Class at Young Rembrandts
**Some coupons only valid at select locations, see coupon for more details.
Holiday shopping comes easy for the ones you love at Three + Me Creations! We have show stopping outfits for your little ones like the NEW Dolman Holiday Dress and matching boys Bow Ties. Surprise a loved one with a personalized Buckle Bag or fill a Zip Sack with some fun craft supplies. All items are created to order and we even accept custom orders, so reach out if you have something in mind that you need brought to life! 
Hello Parents! Discover the unbeatable Black Friday offer from KSM Youth Sports! Be among the first 10 families to grab an incredible deal on our fantastic summer camp experience!!
Our summer camp features a range of activities: Outdoor Games, Dance, Cheerleading, Sports, Field Trips, and much more, for ages 5-12! Instead of the regular $3,267 plus $30 Registration Fees, you can secure our complete summer camp for just $1,957! That's a massive savings of over $1,300! Incredible, right?
But wait, there's more… Bonus #1: 12 Months of Speed & Agility classes for $2,117 (5 Available) Bonus #2: 2024-25 After School Program Member for $2,897 (5 Available)
Visit www.PowellSummerCamp.com for more summer camp details and sign up for our mailing list to access this exclusive offer! Questions? Reach out to us via call/text at (614) 313-0304.
FIT4MOM is the nation's leading prenatal and postnatal fitness program, providing fitness classes and a network of moms to support every stage of motherhood. From pregnancy, through postpartum and beyond, our fitness and wellness programs help make moms strong in body, mind, and spirit. Your first class is free!
We're luxe + lemons–a mom-owned healthy meal delivery service! If you're looking for the perfect gift for the busy mom in your life, get a FREE $25 BONUS card when you buy $100 in gift cards. Don't forget to take care of future you.
Make this holiday season and beyond, a time of joy, not mealtime stress! Discover the perfect gift for yourself and your loved ones with a Meal Prep Menus membership. Elevate your well-being with our innovative platform that seamlessly integrates both physical and mental health.
Say goodbye to the hassle of meal planning, and hello to a week filled with delicious, home-cooked meals—all prepared in an hour or less! Our easy-to-follow recipes use common ingredients readily available, ensuring minimal time spent in the store and kitchen.
Redefine mealtimes and make every bite count in 2024. Join us at mealprepmenus.com to effortlessly plan, customize, and savor the joy of stress-free, health-conscious eating. It's the gift of more time for what truly matters—cherishing moments with your loved ones.
Birth and early parenthood are incredible, life-changing, and unpredictable. As a nurse practitioner and mom of 4, I understand how overwhelming it can feel to welcome a new baby. Every family deserves a village that lifts them up and helps them to find beauty in the mess. From childbirth education and birth planning to registry creation to birth doula and infant feeding support, I'm your one stop shop for evidence based, no BS support!
Whether this is your first baby or your fifth, your experience matters. Together we will make sure you approach these early days as a family feeling confident and prepared.
I can't wait to cheer you on!
The perfect holiday gift for the little ones in your life…the gift of PLAY at Gymboree Play & Music!
With a variety of classes for children and their families from birth through age 5, there's no better way to set little ones up for success than the gift of time, togetherness, and connection.
🎁 Guaranteed giggles
🎁 Clutter free fun
🎁 Shared family joy
Gymboree gift cards are available online or in store and can be redeemed by the recipient for any class pass or membership – it's the easiest way to gift (or receive) a class experience this season!
Busy Bees Pottery & Arts Studio

Busy Bees Pottery & Arts is the place to "bee" during the holidays! Paint an ornament for the tree, make a scented candle as a gift, Busy Bees has all the arts to create something magical during the holidays. The studio is open 6 days a week for open studio time, visit out website for hours. Interested in taking an art class? Visit our events calendar and create with a Busy Bees artist. Great for relaxing and creating memories! Busy Bees is also available for kids and adult parties. The fun and creativity never ends. Buzz over to the studio and paint something special today.
Confident Kids Therapy provides in-home pediatric Occupational Therapy in Central Ohio. In January 2024 we are launching a brand new online course titled The Confident Kindergartener: building a solid foundation for kindergarten success.
Have a preschooler preparing for Kindergarten? Wondering if they are ready?
Tired of searching the web for what is expected of your future kindergartener?
Stop pinteresting, stop scrolling, and gain the confidence and clarity you need to successfully prepare your child for this big transition.
I am a Doctor of Occupational Therapy specializing in child development. Allow me to guide you through all you need to know, activities to nurture their skills, and live support to answer your questions.
In this course you will have exclusive access to me guiding you through a 6-week course all about how to build essential skills your child needs before they enter Kindergarten.
You will learn about developmental expectations and practical tools to encourage your child's overall development, eliminate the feeling of overwhelm, confusion, and uncertainty of where to start and how to best support your child.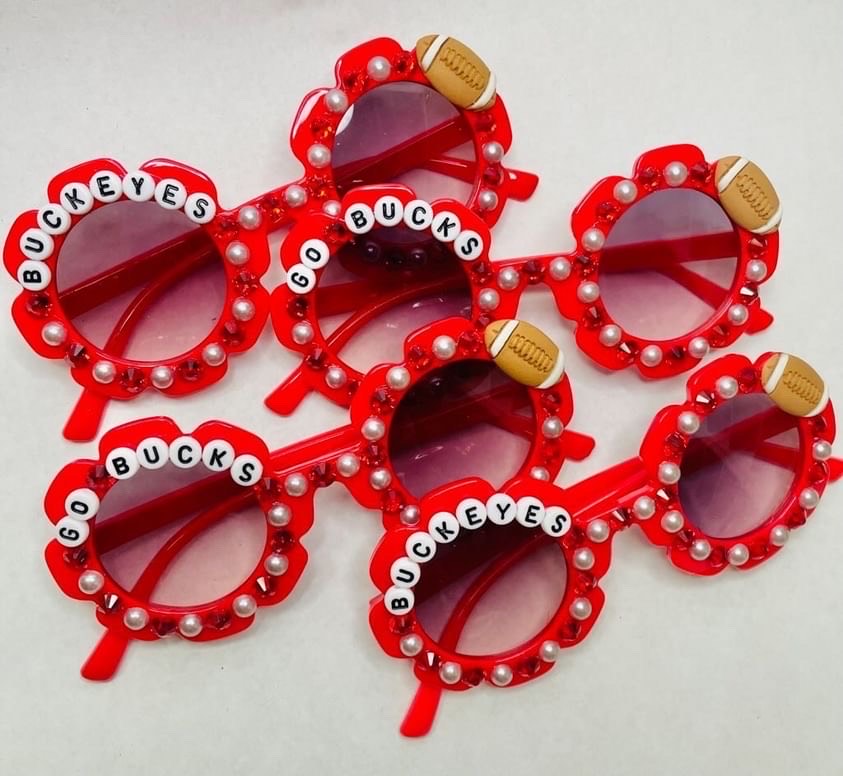 Knotty Girl, LLC is small business here in Columbus (Dublin), Ohio owned and operated by Kelly Cousino. What started out as a unique Bengals themed headband for the Super Bowl game back in February 2022, quickly turned into Knotty Girl, LLC where Kelly creates beautiful, handcrafted knotted headbands for young girls and women! Knotty Girl also includes custom jeweled sunglasses, scrunchies, and bows.
This guide contains sponsored content