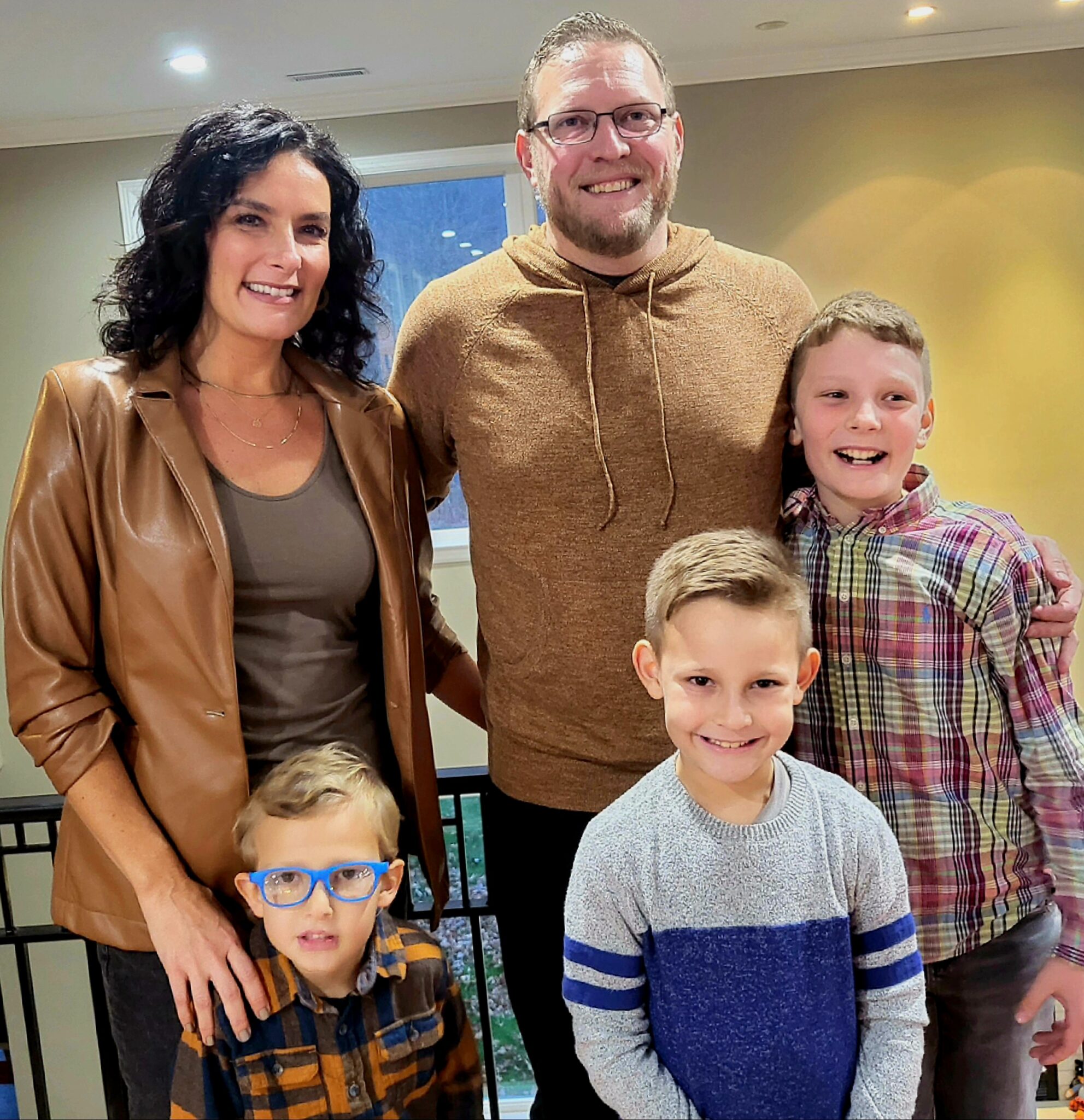 How many kids do you have and what are their ages?
I am a mom of 3 loving boys!  My oldest is age 10, my middle child is 6 and my youngest is age 4.
How long have you lived in Columbus and what made you decide to live here?
I grew up in Grove City.  After attending The Ohio State University and receiving my Masters in Education, I met my amazing husband.  I knew moving back to Grove City to begin a family was the right choice for me.  It has a small-town feel with lots of family and friend support, but yet close to all that Columbus has to offer.
What is your favorite family activity?
Our favorite family activity is exploring our city's restaurants!  My husband and I love to introduce our children to various cultures' foods by visiting locally-owned ethnic restaurants.
What do you love about living in Columbus?
What I love about living in Central Ohio is having everything easily accessible.  From restaurants, to shopping, to outdoor explorations, and to events, we are blessed to have the opportunity to experience a fun and full life here in the heart of it all!
Tell us about your business and how you got started.
I own Breathworx614.  I am a Breathworker and Well-Being Life Coach.  After spending a decade and a half in the classroom as an elementary teacher, I observed many students challenged to regulate their bodies.  Having participated in various Social-Emotional Professional Developments, I learned the power trauma and stress play on children's mental state.  Although I learned many strategies to calm students' bodies, rarely did I learn practices to calm students' minds and bring them into the present moment.  During the pandemic, Breathwork found me. I cultivated my own personal Breathwork practice first, then introduced it to my husband and children.  I then extended my knowledge of Breathwork to the students I tutored.  All were positively impacted by Breathwork harmonizing body and mind while boosting self-confidence!
Fast forward to now…the science behind the power of Breathwork opened my eyes to see, that many of us adults are just as emotionally dysregulated as children, we just do a better job of hiding it, or even accepting it.  All of this dysregulation stems from our thoughts- the voice inside our heads that runs wild.  Using our breath to take us into the present moment can control our untamed thoughts working to achieve balance and regulation of our emotions.  The practice of Breathwork is one that is easily accessible and sustainable for all!
What do you love about your business?
I love enhancing others' quality of life with the power of the breath!  I am humbled to guide others in positively transforming their relationship with stress and life to one that is nurturing and filled with ease and joy!  This is not only impactful for the client of Breathworx614, but is impactful for our world.  When others create a loving and nurturing relationship with themselves and with life, they naturally extend that love and positivity outward to others.
What benefits do people usually see after working with you?
Clients of Breathworx614 receive benefits to each state of their well-being, that is their physical, mental, emotional and spiritual states of being.  Breathwork cultivates self-awareness and mindfulness.  It automatically brings you into the present moment, escaping mindless chatter, or the voice inside your head that grows a story larger than you could have ever purposely created.  Breathworx614 clients observe:
Reduction in Stress & Anxiety.
Improvement in respiratory function, the clearing of mucus and irritants in the airway, decreasing sinus irritation and inflammation.
Reduction in Chronic Pain.
Improvement with Digestion Process.
An Increase of Energy and Boosts Immune System.
Transformation of Limiting Beliefs.
Improvement in Sleep.
A Release of Toxins from the Body.
A Boost in Self-Confidence and Increase of Self-Love!
And Much MORE!  Read for yourself by visiting the Google Reviews left by clients of Breathworx614!
What does a typical day look like for you?
A typical day begins with tending to my own well-being first.  Before anyone in my home is awake, I journal, read the Bible, participate in a few minutes of Breathwork, then exercise.  Once my family wakes up I make breakfast, begin the laundry and help get my children off to school.  During school hours I am with clients or creating media for Breathworx614's YouTube Channel as well as other outlets- it is important for me to build awareness of what the breath can do for our lives!  By the evening, I am back at home for family dinner.  The evening is spent connecting as a family, completing homework and attending my children's extra-curriculars.  At bedtime, each one of my boys receives individualized attention from my husband and I as we tuck them in.  The next morning, I'm back at it all over again!  I couldn't be more grateful!
How do you juggle work and being a mom?
I juggle work and momhood by creating a schedule that works for myself and my family.  It is important for me to have a schedule that allows for me to play with my children, to attend their extracurriculars and other events, and to be available to tuck them in most nights, so I schedule the majority of my clients around my children's schedule.  During times that may veer from my normal schedule, I ensure that my interactions with my children are very intentional.  If I only have 10 minutes to play with my boys, I am in it fully for those 10 minutes, phone silenced, attention and love directed towards my children.
What is the best piece of advice you have received from another mom?
"Don't take life so seriously, we are here to experience LOVE + JOY!"
To get in touch with Tiffany, email her at [email protected] or visit her website.